Tie breakers: A check of cable administration supplies within the California desert
Regardless of whether you build, operate or own utility-scale PV, managing costs while ensuring quality is a top priority for everyone involved. At first glance, cable management may not be as critical as modules or central inverters. Over time, cable management issues – especially cable tie errors – can affect a site's performance and result in a significant accumulated loss of revenue.
If you can measure it, you can improve it
Click here to learn how to use the Mana Monitoring Platform to create new revenue streams from your operations and maintenance operations.
A failed cable tie can lead to cable failure and possible ground faults in the inverter. In addition to regular wear and tear, extreme environments such as deserts, where temperatures can range between -20 ° F and 120 ° F, can further stress the materials. There are many considerations to getting it right the first time, and ensuring proper operation and maintenance (O&M).
To assess the performance of cable ties under extreme conditions, we started an industry-first study comparing four solar ties with different material profiles in the same application at a single location. This article reports on the first results of this multi-year comparative study. We also show best practices for cable maintenance to optimize the work on site.
background
Last fall, Solar Support began routine cable rehabilitation work for the Clearway Energy Group at the Blythe 1 solar facility in Blythe, California, one of the first large-scale PV systems to be installed in the US. Clearway is a partner in Blythe and one of the largest renewable energy asset managers in the country. To promote our shared understanding of the longevity of cable ties, the partners reached out to manufacturer HellermannTyton to investigate cable management performance and best practices in extreme environments.
Together we designed and carried out a multi-year comparative field study to test various material properties. We divided Clearway's 20MW portion of the Blythe facility into four plots and installed various solar hookups on the four color-coded sections. The scope of the cable renovation work did not justify the complete replacement of all existing cable ties, only failed cables.
This feature will be featured in the upcoming Q1 2021 edition of Solar Builder. Subscribe here for free (print or digital or both).
Cable ties tested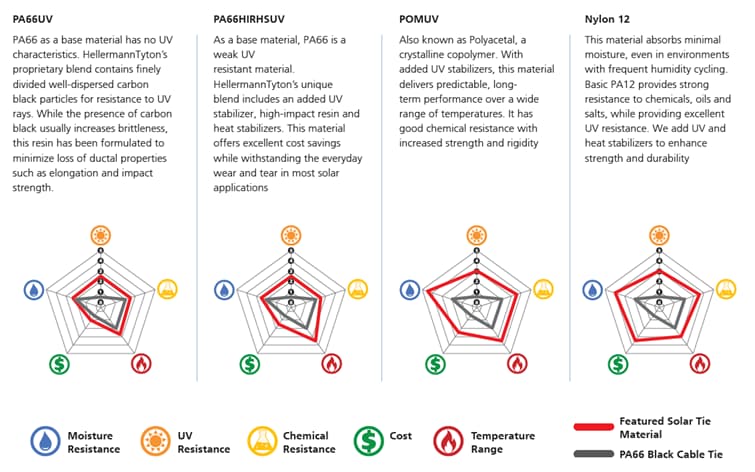 Two considerations are important when evaluating cable tie options: 1) materials and price points, and 2) the application of the system. A total of 5,000 of the four different materials were installed in exactly the same application at the Blythe site.
HellermannTyton suggested replacing the fancy cable ties with solar cable ties, made from polymers designed to withstand conditions such as moisture, heat and other environmental conditions in the desert. These joints, designed to last 10-20 years or more on-site, undergo rigorous thermal cycling and other accelerated environmental tests in the laboratory, but have never been tested in a constant environment in the same location. The HellermannTyton Solar Ties used (Figure 1) all have different chemical and material compositions. The bonds were chosen because the polymers engineered have temperature values ​​of 230 ° F compared to 185 ° F for standard UV bonds. The higher temperature level is intended to protect against constant temperature changes during the entire duration of the project.
Break the tie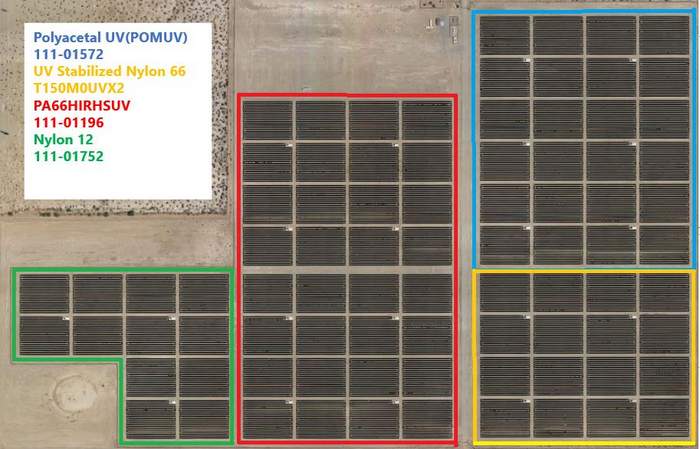 That fall, exactly a year after the initial installation, Solar Support visited Blythe again to assess how the pristine original bonds withstood the elements. Many of the old ties had failed and were replaced with the new solar ties.
Made from polymers designed to last for decades, none of the new polymer solar binders should fail after just a year in the field. Even so, we wanted to know more, and the partners saw the opportunity to run lab tests to see how they were doing after a year at Blythe. Solar Support collected samples of 10 ties from the blue, yellow, red, and green packages and shipped them back to HellermannTyton's US headquarters. A sample of the older ties that were installed five to six years ago was added to the mix.
A split mandrel tensile test was used to determine the maximum strength to the point of break that each cable tie could withstand compared to the tensile strength rating of the base loop. The first of the results under discussion is nylon 66 based materials from the red and yellow blocks. These consist of UV and UV / heat stabilized polymer as well as an impact modifier, which helps to maintain flexibility even after changes in the moisture content. Both of these materials tested remarkably well and averaged two or more times their nominal tensile strength. After a year of on-site installation, these parts will have no significant problems and should not have a problem in this application that will last 15 years or more. This was to be expected due to the hygroscopic nature of nylon 66 – it releases and absorbs moisture based on the ambient conditions.
Blythe's arid climate is beginning to show in the ties. As zip ties dry, they become stiffer. These cable ties weren't dry, but they weren't as elastic as new. This is not in itself a negative, but an effect of heat and UV aging.
The other two connection blocks are made of PA12 and POMUV, which are not hygroscopic. These bonds were tested lower than the red and yellow blocks but still gave good results. They tested about 1.6 times their initial tensile strength. The increase in the loop tensile strength is a sign of early UV degradation, but in this case does not show any adverse effects.
Tie everything together
This test taught us volumes about why solar bonds fail. Here is a summary:
1. Temperature is a factor. Base plastics that are not designed for harsh environments can erode quickly. Think of spaghetti in a colander. If you leave the spaghetti in the colander, it will adapt to the shape. However, if you add hot water or some type of fat, the spaghetti will lose that shape. The same goes for plastic. Add elements like warmth and these polymers will start to unravel.
2. Standard cable ties (including nylon ties with UV additives) are hygroscopic and can dry out over time.
3. In a weather event, basic nylon ties dry out in the heat and reabsorb the moisture in the environment by absorbing zinc chloride and other minerals that get inside the cable and destroy it. This is very important to understand as tracker and fixed tilt systems are often made of galvanized steel which over time will corrode and leave a lot of zinc chloride behind.
4. UV can play a role, but most of the time, the only sunlight that touches wire management parts will break off the floor.
The key is understanding moisture and plastics. For this reason, our study compared ties made from regular nylon with UV ratings to three other ties made from a higher grade of non-hygroscopic engineered polymer. Over time, moisture, heat and UV radiation affect the choice of plastics and materials. Understanding this is an important step in the wire management specification. Different climates require different materials and the costs / benefits of using higher quality polymers differ in all environments.
Whether you're an EPC construction site from scratch or an O&M provider who keeps it going, you can save valuable resources by choosing materials that are designed for environments with high heat and UV radiation . Using higher quality materials will last longer in the field, require less maintenance, and keep labor and replacement costs down, but will cost more upfront.
And don't forget your long-term plan
When it comes to O&M cable management, due diligence upfront is key. Investing time surveying a new site and putting together a plan can save you money later by avoiding wire damage from contact with metal edges and wire arches on junction boxes that are unsuitable or unsuitable for the product application.
Product applications to be observed:
For tracker systems, install the cable management every 4 feet or less along the torque tube or attach it to the module frame. Make sure the cord is a little loose to allow temperature changes.
Avoid sharp edges. Do not insert the products through the module mounting holes by yourself. Movement can lead to premature damage and product failure.
Make sure you create a plan for consistent assessment after installation. One idea is to document defective parts. Parts will stop working in the future, but documentation and ongoing monitoring can help prevent or identify these issues before they turn into persistent pain. Taking pictures before and after tracking your inventory can make a difference.
the authors
Noel Myers, "Solar Cowboy" and Project Manager at Solar Support, brings his expertise in system reliability to the owners and operators of utility-scale PV. Together with the Solar Support team, Noel provides objective equipment knowledge to help asset owners solve complex problems that increase availability, reduce costs, and maximize production.
Phil Walker, National Sales Manager at Energy at HellermannTyton North America, has 14 years in the PV industry. Phil has conducted training for EPC designers to select "Life of System" cable management for PV utility projects across the country.