Monitoring residence solar displays: SunPower and Sense replace their apps, David Power desires to do all the things
Installing a ton of home solar energy not only "distributes" generation, it also distributes responsibility for managing that generation, and we are only just beginning to scratch the surface of products and strategies for doing so. These range from client apps that (try) to change each user's relationship to their home's energy, to virtual power plants that group homes together to centralize DG's decision-making. Here is the latest news on the subject.
If you can measure it, you can improve it
Click here to learn how to use the Mana Monitoring Platform to create new revenue streams from your operations and maintenance operations.
SunPower improves the app
In order to become more of a service-oriented DG solar brand, SunPower Corp. introduced the new mySunPower app, with which homeowners can check and manage their settings for energy generation, consumption and battery storage from a mobile device. The new mySunPower monitoring app will be available for download to SunPower Equinox customers on February 16 from the Apple App Store and Google Play and will be available to all SunPower's 285,000 monitoring customers from spring 2021. The start functions include:
Control of the storage system: users of mySunPower can control their battery in order to minimize energy costs, reduce the carbon footprint or ensure maximum reliability in the event of unforeseen power outages.
Live Power Flow: With live data, Equinox customers with production meters can see the immediate impact of their energy decisions, including the impact of changing weather conditions, adjustments to battery settings, or even the use of small devices like a microwave, in real time.
In-App Alerts: New notification features alert homeowners to important changes to their system status, connectivity and weather conditions. Additional app features expected to be released during the course of 2021 include alerts for homeowners to prepare for rolling power outages and other incidents.
Sense adds TOU functionality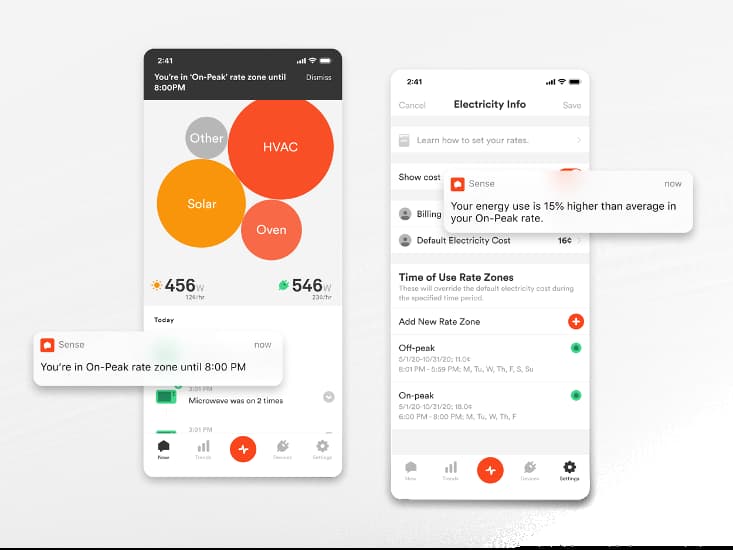 The Sense Home Energy Monitor and app, one of the most popular solutions, have been updated to help customers manage supply plans with TOU (time of use) rates that vary daily and seasonally. Usage time notifies users when electricity tariffs change during the day and helps them budget and control electricity costs. Notifications also notify users when they exceed their average usage during peak times.
With these alerts, Sense users can plan their daily activities and chores during the periods with the lowest cost. For example, the Sense app will notify you when a peak rate starts and let you know when it ends. Instead of running a dishwasher, charging an electric vehicle, or doing a load of laundry during these peak hours, the Sense user can wait for the off-peak notification and run their devices when prices are lower.
The new feature also helps utility customers figure out which tariff plan fits their lifestyle and budget by entering their utility company's different tariffs into the Sense app to see how those tariffs would affect billing based on that historical energy consumption of your home. Users can run multiple rate scenarios to choose the best plan. In summary, the Sense app is now:
Warns when a new period of use begins
Notifications when more power is consumed than normal during a peak rate zone
More accurate billing estimates for Sense users who have a usage schedule
The ability to compare lifetime tariff plans to see which work best.
David Energy raises $ 19 million to manage home equipment and sell to electronics stores
And there is this approach from David Energy, which is distinguishing itself as a new kind of electricity supplier. The company closed a new $ 19 million financing this week. The aim is to integrate devices in customer houses and buildings such as battery storage systems, EV chargers, intelligent thermostats, solar systems and more and then use these devices directly on the electricity markets. The Mycor software platform analyzes and controls customer demand in real time. By leveraging building data, demand-side software and the resources that the building has, Mycor can intelligently shift user consumption to the times when renewable energy is most available and cheapest.
Crucial to this is the $ 15 million working capital facility through Hartree Partners, a global commodities trading company that specializes in energy. By working with Hartree, David Energy combines traditional raw material purchasing with its advanced technology platform. The partnership is a key gateway for David Energy to do business in the energy markets and provides its balance sheet for working capital to buy energy on behalf of David Energy's customers.
David Energy would be able to buy and deliver electricity to customers far cheaper and more efficiently than incumbents, with complete transparency. Co-founders James McGinniss, Brian Maxwell and Ahmed Salman founded David Energy in 2019. The trio is joined by two new employees, Retail Director Chaitu Parikh, former COO of Crius Energy, and Vice President of Supply Abhi Mandhana, former Director of Portfolio Optimization at EDF Energy North America.
"We intend to build the standard renewable energy oil and the first step in vertical integration is to become a supplier," said McGinniss. "Producers of renewable energies differ fundamentally in their variable, distributed and digitally native nature from their predecessors fossil fuels, while customer loads such as heating and driving are shifted to electricity consumption from gas. The sands of market power are shifting and incumbents are ill-positioned to adapt to changing customer needs. Therefore, there is an enormous opportunity for us to make capital. "
David Energy plans to use the additional funding to bring its offering to the northeastern markets and rapidly expand its customer base.
And if you missed it, Span now integrates with Alexa
Span launched and delivered its intelligent control panel last year – a reinvention of an old basic concept in order to better serve today's networked, electrified and renewable houses. At the end of January, they added another $ 20 million led by Munich Re Ventures' HSB fund and Amazon's Alexa fund (with continued involvement of existing investors). This strategic investment will help expand the reach of Span Smart Panel for homeowners and develop new product offerings. It coincides with the latest update from Span: voice integration with Alexa from Amazon. Here is the full story about it.